TOP 7 GROOMING GLOVES FOR DOGS
Our dogs are the best family members, loved by the whole family. Our dogs do not demand anything in return for their faithfulness but love and care. Our pets like to be pampered, and the pet industry has developed several products to help us pamper them. Many species of dogs have long, healthy hair that is not easy to maintain. The new range of grooming gloves has solved this problem to a considerable extent, and now it takes just a few minutes to detangle the hair of both cats and dogs. The following top-ranking products have made pet care much easier for us.
Hands-On Pet Grooming Gloves
Shopping for pet grooming products is much easier after viewing the reviews of pet owners who have already used them. Hands-On pet grooming gloves are the top-ranking product as they work well with cats and dogs. This glove has five finger design with some bristle tips on the fingers and soft silicone spikes at the palm to make rubbing and bathing easier. These come in handy for massaging your pet. There is Velcro at the wrist for easy fit. These gloves are compact enough to fit your pocket or a caddy bag.
Gentle Brush Glove For De-shedding
This particular brush is one of the best products you can buy for properly grooming your pet. If your pet's hair is falling and it does not look tidy, a gentle brush glove is the best product for your pet. It is an awesome easy-to-slip-on glove that works efficiently in brushing away all the dirt and loose hair from the body of your dog. It works equally well on long, short, and even curly hair. It is good for dog hair, but people also use it for horse and cat hair. This glove is good for thoroughly cleaning the pet's hair without hurting his skin.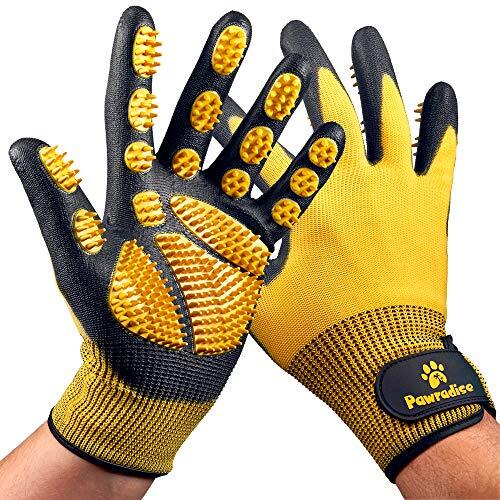 Pet Grooming And Bathing Glove
A Pet grooming and bathing glove is not only a grooming glove but a pampering one. The two-hand use of this glove will consume minimum time with the best results, and your pet will love it. The product works well in washing away dirt and dead hair in minutes, if not seconds. It helps the natural oil distribute equally and provides stimulation for healthy fur. It is the best choice if you want your dog to look adorable with silky smooth, clean fur. It works great on all breeds of dogs with any hair type.
Sweetpawspup is a brand that understands the need of grooming products for your lovable pet. The top-quality grooming gloves are proof of the brand's understanding of the needs of its customers. Once you buy these gloves, you will love to buy more pet items from the same brand. Sweetpawspup is the best online store to buy grooming products.
Grooming Gloves One Size Fit
Those who care for their pet's health and well-being ensure their grooming is done regularly. When they spend time with their pets and do their grooming, they should use the best grooming products, such as a one-size-fits-feeding glove. It is one of the favorite products for pet keepers. This unique product fits all sizes of hands and effectively reaches even hard-to-reach areas.
K&K Pets Grooming Glove Gift Set
Those who love their pets try to use eth best products for them. Whether it is the food the pets eat or the grooming products like shampoos and brushes, everything bought for them is the best. K& K pet grooming glove set is one of the favorite pet grooming products for several pet owners and an awesome gift for a pet owner. This product is created with your pet's care and pampering in mind and is good for use on wet and dry fur. It helps get rid of all the dirt and grass from your pet's body. It comes with a good gift box. You will feel appreciation for the product when your pet loves the feel of it.
Delmo New Pet Hair Remover Gloves
Delmo is a brand that cares for its customers even more than its owners do. The pet care products manufactured by Delmo are the most popular among pet owners. The pet hair remover gloves remove your pet's hair and provide stimulation to your pet's skin which helps in the distribution of natural oils all over their body.
---